Live Like You Are Dying: Make Your Life Count Moment by Moment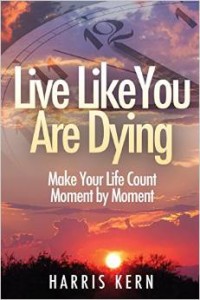 Publisher: Koehler Books (August 1, 2015)
Language: English
ISBN-10: 194019279X
ISBN-13: 978-1940192796
In this era, people are under overwhelming pressure to accomplish more in life at a record setting pace with minimal resources at their disposal than ever before. Make no mistake: We are living in extremely challenging times and the only thing that can help us now is changing our mentality and taking the appropriate measures so that we can keep our heads above water. Live Like You Are Dying: Make Your Life Count Moment by Moment will teach readers from all walks of life how to train their mind so they can adapt to and keep up with the daily rigors of life in the Twenty-First Century. Written by a highly successful life coach/organization mentor/IT management consultant and Publisher, Live Like You Are Dying: Make Your Life Count Moment by Moment identifies what has been up to now the missing link every person needs to be more productive during these stressful and accelerated times we're presently living in. The author has trained his mind and developed the self-discipline required to live his life with a sense of urgency. Drawing from his own powerful life lessons, sweet successes and monumental failures, he is providing real world examples of how to train the mind for more productive living. He offers readers a unique perspective so they too can learn how to live their lives as if tomorrow is never going to come.
IT Automation
The Quest for "Lights Out": Data center automation in distributed environments.

CIO Wisdom
Best Practices from Silicon Valley's Leading IT Experts

IT Services
Costs, Metrics, Benchmarking, and Marketing: Delighting IT customers: your real-world, start-to-finish guide

CIO Wisdom II
More Best Practices from Leading IT Experts

IT Architecture Toolkit
Less theoretical, more practical approach to developing and implementing enterprise architecture.

IT People
Doing More with Less. Best practices for managing the people within the IT organization.

Data Warehousing
Architecture and Implementation: A start-to-finish process for deploying successful data warehouses

Building Professional Services
The Sirens' Song: A comprehensive guide to creating a professional services organization

IT Problem Management
The complete "best practices" guide to IT problem resolution.

IT Organization
Building a World-Class Infrastructure.

IT Web Services
A Roadmap for the Enterprise: Architectures, platforms, roles, business models, and deployment realities.

Software Development
Building Reliable Systems.

IT Production Services
Building Competitive Advantage: Describes one of the most important functions of an IT infrastructure

Managing IT as an Investment
Partnering for Success: Maximizing the value of technology—and the success of your IT organization.

High Availability
Design, Techniques and Processes: The complete how-to guide for maximizing availability of enterprise systems

IT Systems Management
Design, Implement, and Manage World-Class Infrastructures.

Technology Strategies
Managing technology, value, and change in the new economy.

Web-Based Infrastructures
A 4-D Framework: Maximize the value of your next Web-centered initiative.