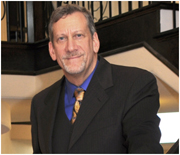 A world-renowned American author, publisher, lecturer, and IT consultant, who is the industry's foremost expert on simplifying IT – and making it work. In a 'technology-solves-all-problems-world', Mr. Kern challenges industry leaders to build a competitive IT organization by re-focusing resources, rather than re-building infrastructures. His focus is on the people, organization structure and process issues, which allow organizations to maximize the ability of IT to create business value and enables the integration of IT into the business as a strategic partner.
Mr. Kern's extensive industry background serves as the foundation for his best-selling series of books published by Prentice Hall. As executive editor of the Harris Kern Enterprise Computing Institute, he has brought together the industry's leading minds to publish "how-to" textbooks on the critical issues the IT industry faces. The series includes titles such as: IT Production Services, IT Services, IT Organization, IT Systems Management, High Availability, CIO Wisdom, Managing IT as an Investment, among others. Mr. Kern's career has brought him in contact with the best and brightest of the IT industry.
Mr. Kern is also an American motivational speaker, peak performance expert, and self-discipline mentor. He is the author of DISCIPLINE: Six Steps To Unleashing Your Hidden Potential and DISCIPLINE: Training The Mind To Manage Your Life Mr. Kern has designed the first Discipline Mentoring Program to help IT professionals excel in their career and their personal life.
Published Works
Networking The New Enterprise
Rightsizing The New Enterprise